Models:1038-2
From PureBlueJapan Wiki
Painter Pants with Apron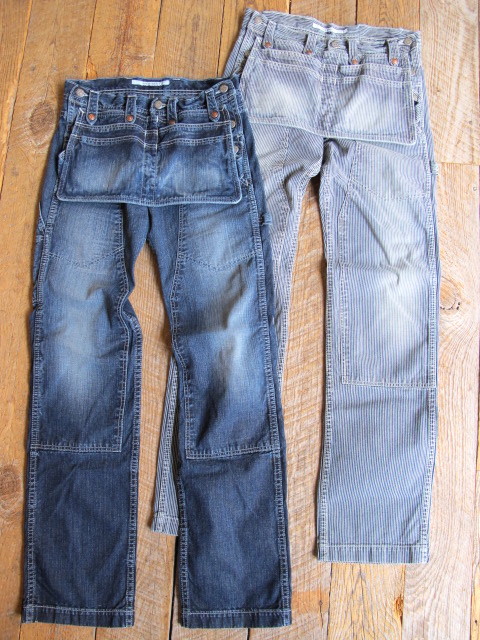 These were initially created with the idea of making overalls without the top part. The idea caught on and these painter pants have become a standard part of the Pure Blue collection.
A few years since they were first launched they were relaunched with a thinner shape.
Since the apron is held on with buttons on the belt loops it's possible to remove it. You can also attach the apron to the back or sides, anywhere there are belt loops, giving you a range of possibilities.
Because they're available in a wide range of sizes anyone can enjoy them, regardless of sex. The light 10.5 oz denim means you can wear them in any season.
Colors : Indigo, Hickory
Size Chart (Indigo)
| size | waist | front rise | back rise | upper thigh | length | knee | leg opening |
| --- | --- | --- | --- | --- | --- | --- | --- |
| 0(26) | 75 | 25.4 | 32.2 | 28 | 80.5 | 21.3 | 20 |
| 1(28) | 81 | 27 | 33.6 | 29.5 | 85 | 22.2 | 20.5 |
| 2(30) | 86 | 27.5 | 34.5 | 30.2 | 86 | 23 | 22 |
| 3(32) | 90.5 | 29 | 36.4 | 32.5 | 88 | 24.5 | 23.3 |
| 4(34) | 96.5 | 30 | 36.8 | 33 | 88 | 25.2 | 24.1 |
| 5(36) | 101.5 | 30.5 | 37.6 | 34 | 88 | 26 | 25.3 |
Size Chart (Hickory)
| size | waist | front rise | back rise | upper thigh | length | knee | leg opening |
| --- | --- | --- | --- | --- | --- | --- | --- |
| 0(28) | 77 | 25.3 | 32.8 | 28.3 | 81 | 21.3 | 20.4 |
| 1(30) | 83.5 | 27.4 | 33.8 | 29 | 84 | 22 | 21 |
| 2(32) | 87.7 | 27.8 | 34.8 | 30.5 | 87 | 23.3 | 22 |
| 3(34) | 91 | 28.9 | 36.2 | 32 | 87.4 | 24.5 | 23.2 |
| 4(36) | 97.3 | 29.9 | 37.3 | 34 | 88.5 | 25.4 | 24.6 |
| 5(38) | 103 | 31 | 38 | 34 | 88.5 | 26 | 25.3 |
unit : cm