Models:1117
From PureBlueJapan Wiki
Postman Pants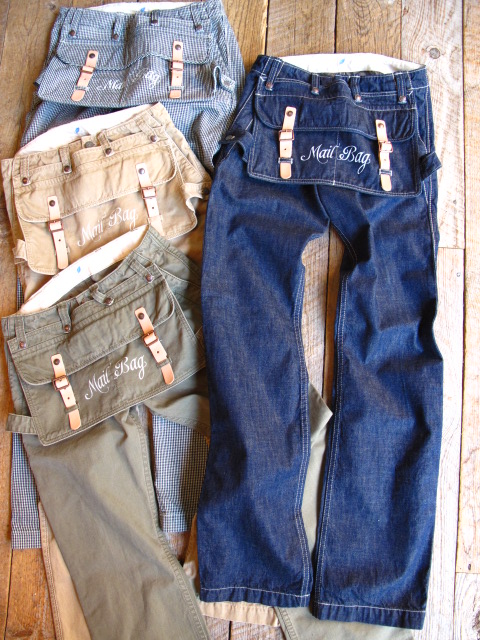 These were designed with a postman in mind, hence the attached bag. The bag is attached with buttons so you can attach it to the rear or just remove if you wish.
They're a slim, straight fit. The leather strap of the bag is removable so you can wash it any time.
It's available in four colors, one-wash indigo, gingham check indigo, beige and khaki green.
Just looking at them you can appreciate the craft-work that went into them.
Size 0 and 1 are designed with women in mind, so they have a low rise and are slimmer.
Colors : Indigo, Beige, Khaki, Gingham
Size Chart (Indigo)
| size | waist | front rise | back rise | upper thigh | length | knee | leg opening |
| --- | --- | --- | --- | --- | --- | --- | --- |
| 0 (XS) | 71.5 | 22.5 | 35 | 27 | 86.5 | 19.8 | 19.5 |
| 1 (S) | 76 | 23 | 36 | 27.5 | 86.5 | 20.3 | 20 |
| 2 (M) | 76.5 | 26.5 | 33.5 | 30.5 | 89.5 | 22 | 21 |
| 3 (L) | 80 | 27 | 34.5 | 32 | 90 | 23 | 21.5 |
| 4 (XL) | 85.5 | 29 | 35 | 33 | 90 | 23.7 | 23 |
Size Chart (Beige, Khaki)
| size | waist | front rise | back rise | upper thigh | length | knee | leg opening |
| --- | --- | --- | --- | --- | --- | --- | --- |
| 0 (XS) | 72 | 22.5 | 35 | 27 | 86 | 20 | 19.5 |
| 1 (S) | 75.5 | 22.5 | 35 | 27.5 | 86 | 20.5 | 20 |
| 2 (M) | 76.5 | 25 | 33.5 | 30.5 | 88 | 22 | 22 |
| 3 (L) | 80.5 | 27 | 34.5 | 32.5 | 88 | 23 | 22 |
| 4 (XL) | 85.5 | 27.5 | 35.5 | 33.8 | 89.5 | 24 | 23 |
unit : cm