Models:1119-2
From PureBlueJapan Wiki
1 Year old denim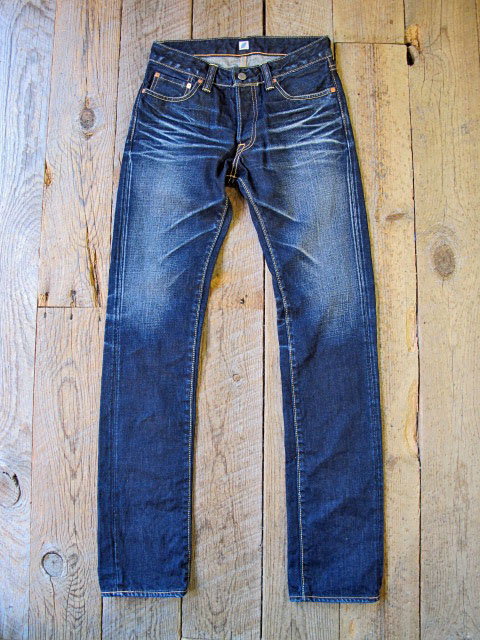 These are manufactured with the image of unwashed, one-year-old worn jeans in mind. The main characteristics of these are the honeycomb and creases that look like real unwashed jeans, as well as their original color contrast and unevenness in the fabric.
The fabric thickness is a easy-to-wear 13 oz, a little on the light side.
Since the focus was on getting the best shape, selvedge denim is not used in these, and the resulting fit should look fashionable on any leg shape.
Color : Indigo
Size Chart
| size | waist | front rise | back rise | upper thigh | length | knee | leg opening |
| --- | --- | --- | --- | --- | --- | --- | --- |
| 28 | 73 | 23.5 | 32.7 | 27 | 84 | 17.5 | 16 |
| 30 | 77.5 | 24.5 | 33.5 | 28.5 | 84 | 18.5 | 16.5 |
| 32 | 83 | 25.5 | 34 | 29.8 | 84 | 19.6 | 17.8 |
| 34 | 88.5 | 26 | 35.5 | 31.5 | 85 | 21.3 | 19.3 |
| 36 | 93 | 27 | 36.3 | 33.5 | 85 | 22.2 | 20.5 |
unit:cm