Models:1123
From PureBlueJapan Wiki
Indigo Yarn-Dyed Prisoner Workpants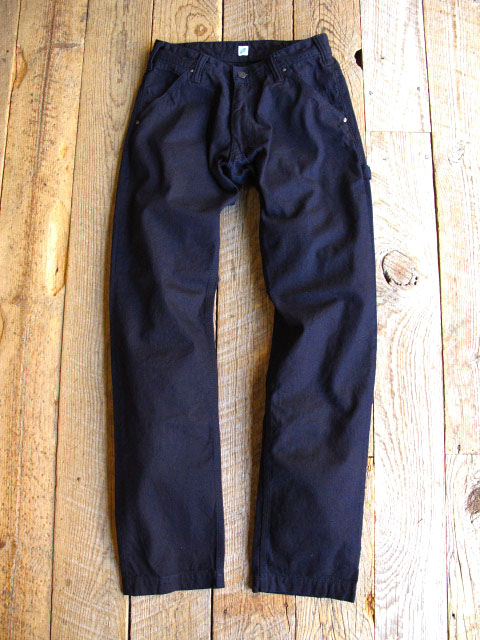 These fresh-looking work-pants have a close fitting slim cut with a deep indigo color.
The rise is on the low side, and the leg diameter is fairly thin. They're a popular cut that is tapered towards the hem. It uses soft 11 oz duck material, with some good fading to be expected.
On the size chart the waist of the 28 inch is bigger than the 30 inch, but since the rise is low you'll actually be wearing them around your hip bone area.
Color : Deep Indigo
Size Chart
| size | waist | front rise | back rise | upper thigh | length | knee | leg opening |
| --- | --- | --- | --- | --- | --- | --- | --- |
| 28 | 79 | 21.3 | 33.8 | 32.7 | 81.3 | 21.4 | 17 |
| 30 | 77 | 25.4 | 34 | 33.5 | 85.5 | 22 | 18.5 |
| 32 | 81.5 | 26.2 | 35.4 | 35 | 85.5 | 23.3 | 19.8 |
| 34 | 88 | 27 | 36 | 36.2 | 85.5 | 24.2 | 21 |
| 36 | 92 | 27.7 | 36.3 | 37 | 85.5 | 25 | 21.5 |
| 38 | 95.6 | 29 | 37 | 38.5 | 85.5 | 25.4 | 21.8 |
unit : cm