Models:1125
From PureBlueJapan Wiki
Indigo Yarn-Dyed Prisoner Workpants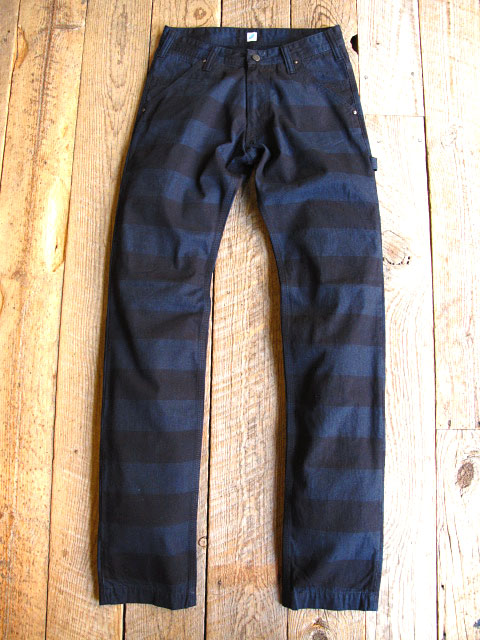 Border print work-pants made with highly contrasting indigo colors.
It's made with dense, stretchable material which give it a standout tidy, tapered fit.
While keeping all the features of work-pants, such as a hammer loop and reinforced pockets, they manage to pull off a slim fit.
On the size chart the waist of the 28 inch is bigger than the 30 inch, but since the rise is low you'll be wearing them around your hip bone.
Color : Deep Indigo
Size Chart
| size | waist | front rise | back rise | upper thigh | length | knee | leg opening |
| --- | --- | --- | --- | --- | --- | --- | --- |
| 28 | 81 | 22.5 | 34 | 31.5 | 86.3 | 20.3 | 16.5 |
| 30 | 77 | 25.3 | 34 | 32 | 90 | 21 | 17.8 |
| 32 | 82 | 27.3 | 35.5 | 33 | 90 | 22 | 18.7 |
| 34 | 88 | 27 | 36.3 | 34.5 | 90 | 22.7 | 19.5 |
| 36 | 95 | 28.6 | 36.5 | 36 | 90 | 23.5 | 20.8 |
| 38 | 97.7 | 29.5 | 37.5 | 37 | 91 | 24 | 21.3 |
unit : cm