Models:2170
From PureBlueJapan Wiki
6 oz Stainless Steel Work Shirt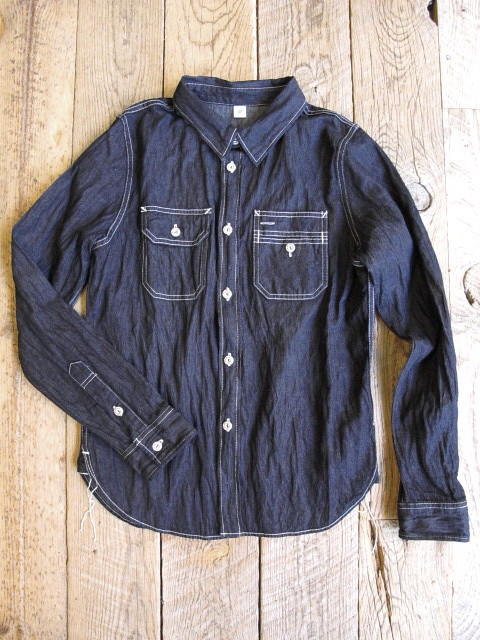 The weft in the material has stainless steel enclosed in it making this work shirt quite unique.
It has a special luster and stiffness in the material. If you bunch up the material with your hands it will keep that shape, so you can mold it to add creases wherever you want.
Although it contains stainless steel, it's an ultra thin fiber, like wire. This forms the core, around which cotton is wound to form the thread. Because of the cotton coating there's no need to worry about skin irritation on contact.
The material offers a unique sensation that you wont find elsewhere.
Color : Indigo
Size Chart
| size | center back | shoulder | chest | sleeve |
| --- | --- | --- | --- | --- |
| 2 (Men's/M) | 64.8 | 38 | 69 | 65 |
| 3 (Men's/L) | 67.5 | 40 | 108 | 68 |
| 4 (Men's/XL) | 70 | 44 | 113 | 69 |
| 5 (Men's/XXL) | 74 | 48 | 122 | 70 |
unit : cm