Models:SS5311
From PureBlueJapan Wiki
Indigo Border Crew-neck Pocket T-Shirt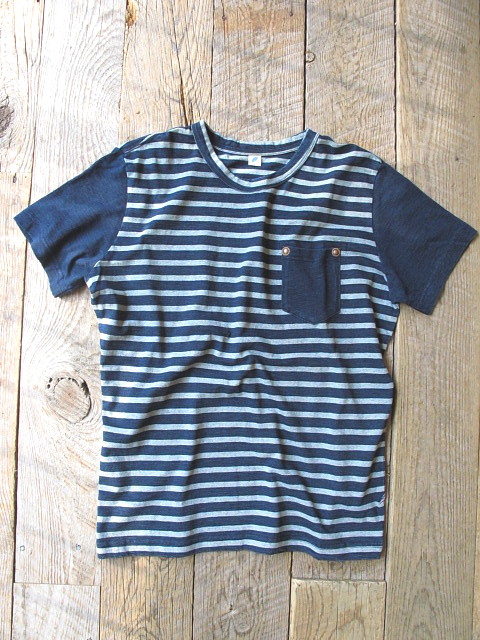 This crew-neck t-shirt has an indigo and gray border print.
The border print uses fairly narrow stripes and the combination of calming colors is easy on the eye. It's a great addition to any wardrobe since it goes with any kind of bottoms.
This design includes a small pocket, which isn't just for show. It could be useful for holding small items, such as a memo pad.
The material is knitted from pre-dyed thread, and it will change color with continued use. You can expect to see a different color-change to plain t-shirts that is unique to the border print.
Color : Indigo
Size Chart
| size | center back | shoulder | chest | sleeve |
| --- | --- | --- | --- | --- |
| 1 (women's/S) | 59.5 | 40.7 | 98.4 | 17.1 |
| 2(men's/M) | 62.4 | 43.5 | 110.4 | 19.7 |
| 3 (men's/L) | 63.8 | 44.3 | 117 | 21.8 |
| 4 (men's/XL) | 66.5 | 49.3 | 124.2 | 21.5 |
| 5 (Men's/XXL) | 70.5 | 53.9 | 133.2 | 22.6 |
unit:cm