Models:VS5311
From PureBlueJapan Wiki
Indigo Border V-neck Pocket T-shirt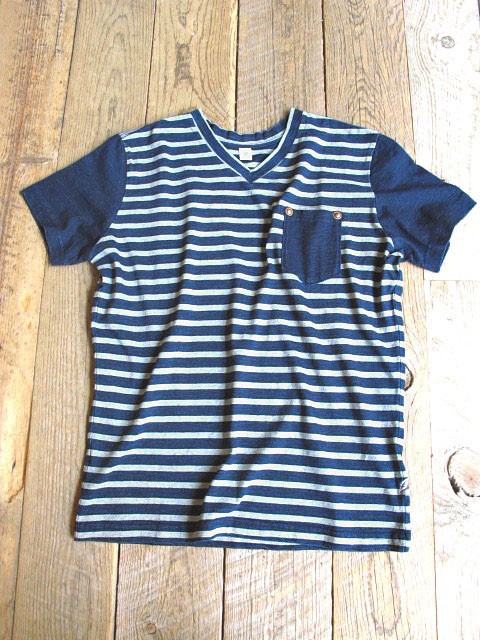 This is an indigo and gray border print v-neck t-shirt with a pocket.
The sleeves are left plain and simple, and by matching their color to the pocket material is gives off a relaxed, easy-going impression. The v-neck looks classy, not too wide or narrow. Since the pocket is around 9-10 cm wide, it can be handy for storing something small.
It uses yarn-dyed indigo material, so you can expect a change in color as time goes by.
Color : Indigo
Size Chart
| size | center back | shoulder | chest | sleeve |
| --- | --- | --- | --- | --- |
| 1(women's/S) | 59 | 38.2 | 102.6 | 17.3 |
| 2(men's/M) | 62.5 | 43.7 | 112 | 20.1 |
| 3 (men's/L) | 63.9 | 46.2 | 118.6 | 21.1 |
| 4 (men's/XL) | 66.5 | 49.7 | 126.4 | 21.9 |
| 5 (Men's/XXL) | 70.9 | 52.6 | 132 | 22.6 |
unit:cm