Models:XX 012
From PureBlueJapan Wiki
Deep Indigo Tapered Slim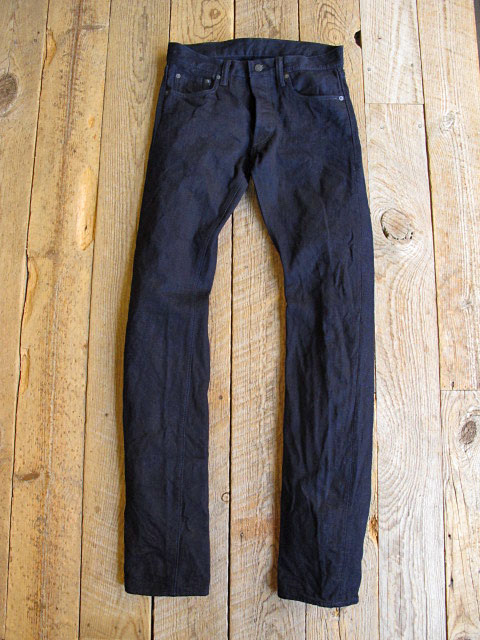 14 oz original deep indigo selvedge denim. Tapered slim. One wash.
XX-012 is a re-work of PBJ XX-005 with 1/4" shorter rise, 1/2" fuller thigh, and tapered leg. The XX-012 is a 100% indigo woven denim, not overdyed. The most common indigo denims are woven with vertical indigo warp threads and horizontal undyed weft yarns. The XX-007 uses genuine indigo dyed warp and weft (threads and yarns) to create a solid blue indigo jean.
The cores of these threads and yarns remain undyed as the indigo does not fully penetrate to the centers. This allows for contrast fading similar to that of traditional blue jeans but with a unique blue overcast.
This deep indigo color is a uniquely mixed to order only for Pure Blue Japan. The rough quality in the fabric is also second to none.
Overall it's a tight fit with even further tapering below the knees, a popular fit with a lot of gathering momemtum recently.
14oz PBJ original Japanese selvage denim
100% Cotton
Pure Indigo
Herringbone Twill pocket lining
Deerskin leather patch
100% cotton thread sewing construction
Made In Japan
Color : Deep Indigo
Size Chart (One wash)
| size | waist | front rise | back rise | upper thigh | length | knee | leg opening |
| --- | --- | --- | --- | --- | --- | --- | --- |
| 27 | 73 | 23 | 31.2 | 26.6 | 89 | 17 | 15.3 |
| 28 | 75.2 | 23.4 | 32.4 | 27 | 89 | 17 | 16 |
| 29 | 77 | 24 | 32.8 | 28.2 | 89 | 17.5 | 16.5 |
| 30 | 79 | 24 | 33 | 28.5 | 89 | 18.5 | 17.5 |
| 31 | 82 | 24.8 | 33.3 | 29.5 | 89 | 19 | 17.8 |
| 32 | 84.5 | 25 | 34 | 30 | 89 | 19.5 | 18.2 |
| 33 | 87.7 | 25.3 | 34.5 | 30.5 | 89 | 20 | 18.5 |
| 34 | 89.4 | 25.5 | 34.7 | 31.5 | 89 | 20.5 | 20 |
| 36 | 94.7 | 27 | 36 | 33.3 | 89 | 21.7 | 20.5 |
| 38 | 99.8 | 28 | 37 | 34.4 | 89 | 22.3 | 21.2 |
| 40 | 104 | 28.5 | 38 | 35.2 | 89.5 | 23 | 21.5 |
| 42 | 108.5 | 29.5 | 39 | 37 | 89.5 | 23.5 | 22.3 |
unit:cm
Measurements are in inches and for the Raw version (before washing):

Measurements below are in inches and for the Once Washed version: