Models:XX 013
From PureBlueJapan Wiki
Indigo Tapered Slim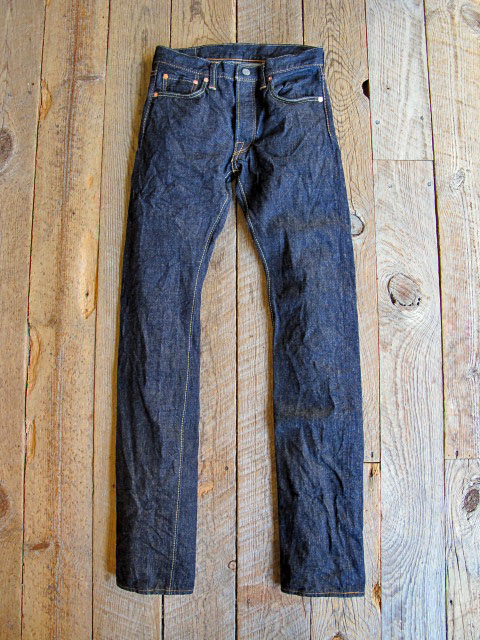 14 oz original deep indigo selvedge denim. Tapered slim. One wash.
Pure Blue Japan's classic, the XX-013 is one of the newer cuts by PBJ. Using the popular slubby Indigo fabric that PBJ has become renowned for, the modern Slim Tapered cut used on the XX-011 has been appropriated to this model. The fit is a true slim tapered with a tapered leg opening - a modern take on the slim straight silhouette.
These are also available in both a Raw and One Wash fabric. Like many of Pure Blue Japan's jeans, the fabric is from a low-tension shuttle loom, thus featuring the slubby and hairy feeling fabric common to Pure Blue Japan denim. These jeans are produced in several different batches throughout the year because the production ouput of the fabric is very limited. The uniqueness of the slubby denim fabric, coupled with the small-scale production method, make this perfect fitting jean by Pure Blue Japan a true classic.
14 ounce Japanese selvage denim
100% Cotton
Pure Indigo
Herringbone Twill pocket lining
Deerskin* leather patch
100% cotton thread sewing construction
Made In Japan
Uses the same 14 oz selvedge denim material as the XX-003, XX-004, XX-005 with the popular tapered slim cut. It's biggest characteristic is the roughness of the material, which fades nicely with wear.
It uses material which is only produced a single specially-modified loom at Pure Blue Japan.
The stretch from the knees down is tapered to the hem. This fit is popular right now, it is tight and hugs the shape of your legs.
Color : Indigo
Size Chart (One wash)
| size | waist | front rise | back rise | upper thigh | length | knee | leg opening |
| --- | --- | --- | --- | --- | --- | --- | --- |
| 27 | 72 | 23.3 | 32.5 | 26 | 88.5 | 16.3 | 15 |
| 28 | 74.5 | 23.4 | 32.7 | 27.2 | 88.5 | 17 | 15.5 |
| 29 | 77 | 24 | 32.4 | 27.5 | 88.5 | 17.8 | 16.8 |
| 30 | 79 | 24.3 | 33 | 28 | 88.5 | 18.2 | 17 |
| 31 | 81.5 | 24.8 | 33.8 | 29.4 | 89 | 19 | 17.5 |
| 32 | 84 | 25 | 34.2 | 30 | 89 | 19.5 | 18.5 |
| 33 | 86 | 25.5 | 34.5 | 31 | 89 | 20 | 18.5 |
| 34 | 88 | 25.7 | 35 | 31.5 | 89 | 20.3 | 19.8 |
| 36 | 94.5 | 27 | 35.8 | 33.5 | 89 | 22 | 20.8 |
| 38 | 100.5 | 27.7 | 36.7 | 34.5 | 90.5 | 23 | 21.8 |
unit:cm
Measurements are in inches and for the Raw version (before washing):
Expected shrinkage: 2" waist, 2.5" length, and 1/2" in leg width with machine wash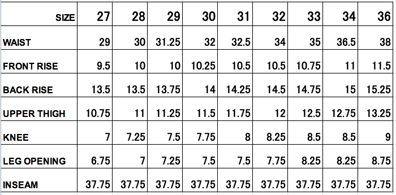 Measurements are in inches and for the Once Washed version: