Models:XX 015
From PureBlueJapan Wiki
Indigo Cigarette Slim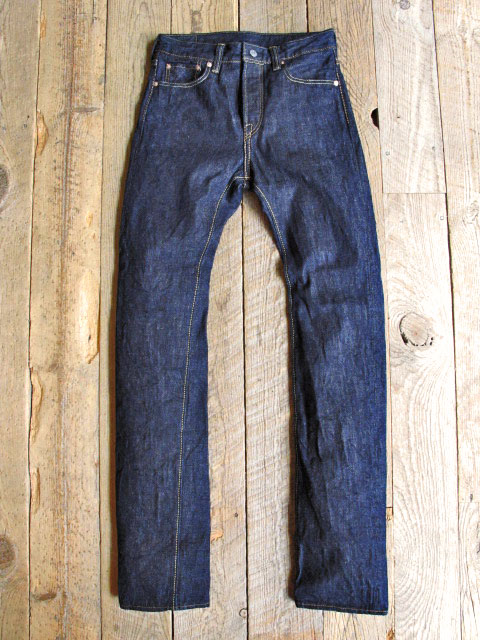 14 oz original deep color selvedge denim. Cigarette slim. One wash.
XX-015 has a completely new shape- deeper rise, wider waist, and slim legs like cigarettes. The waist size is 2 inches bigger than the XX-005, i.e. a size 30 of XX-015 will have a similar waist as size 32 of XX-005. Front rise is 4cm longer than XX-005.
14oz PBJ original slubby Japanese selvage denim
100% Cotton
Pure Indigo
Herringbone Twill pocket lining
Sheepskin leather patch
100% cotton thread sewing construction
Made In Japan
This new fit, 'Cigarette slim' is now at Pure Blue Japan. They were crafted with the intention to make them "as slim as a cigarette" with legs as straight as an arrow.
It's most distinguishing feature is the fact that it has the highest rise of all the major Pure Blue Japan ranges. In addition, since the waist is a little bigger than usual it looks like you're wearing them low. You might think this reminds you of sagging, but since the legs are thin all the way down it gives off a sharp, mature image.
The material is the same 14 oz rough selvedge denim used in XX-003, XX-004, XX-005 and XX-013. So why not try them out and see their unique fading pattern.
Color : Indigo
Size Chart
| size | waist | front rise | back rise | upper thigh | length | knee | leg opening |
| --- | --- | --- | --- | --- | --- | --- | --- |
| 28 | 75.7 | 28 | 36.4 | 27.8 | 90.5 | 18.3 | 17.5 |
| 29 | 78.7 | 28.3 | 36.8 | 28.2 | 90.5 | 18.7 | 18 |
| 30 | 80.8 | 29 | 37.5 | 29 | 90.5 | 19.3 | 18 |
| 31 | 82.5 | 29.3 | 38 | 29.6 | 90.5 | 19.8 | 19.1 |
| 32 | 84.3 | 30.1 | 38 | 30.3 | 90.5 | 20.3 | 19.5 |
| 33 | 87 | 30.8 | 38.4 | 30.6 | 90.5 | 21 | 20.3 |
| 34 | 91 | 31.1 | 39 | 31.5 | 90.5 | 21.7 | 20.8 |
| 36 | 95 | 32 | 39.7 | 32.8 | 90.5 | 22.3 | 21.9 |
| 38 | 98.9 | 32.7 | 41 | 34.4 | 90.5 | 22.7 | 22.1 |
unit:cm
Measurements are in inches and for the Raw version (before washing):
Expected shrinkage: 2" waist, 2.5" length, and 1/2" in leg width with machine wash

Measurements are in inches and for the Once washed version: