Models:XX 018
From PureBlueJapan Wiki
Cobalt Denim Slim Straight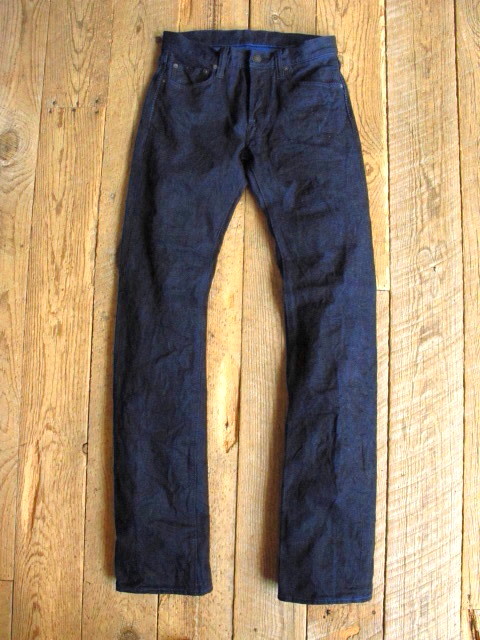 14 oz cobalt denim. Slim straight. One wash.
The material is the familiar 14 oz rough Pure Blue selvedge denim. It uses a rather strange type of denim with pure indigo warp threads interwoven with cobalt blue dyed weft yarns to produce a vibrant blue.
It's another in the palette of blue available from Pure Blue Japan.
The warp, which is most important in fading, is dyed the regular indigo color so you can expect a nice contrast when the color starts to drain from it. Combined with the cobalt of the weft it should produce a new range of colors different from regular denim.
The buttons are rivets are black, with a dark blue stitch used throughout to make it look stylish. However the side of the waist and hem use cobalt colored stitching which emphazises its unique character.
The model weighs 14 oz. and still showcases all of PBJ's famous detailing; including 100% cotton thread sewing construction, deerskin leather patch, and the brand's renowned, slubby texture.
The width from the knees down is the same, which makes your legs look longer. They're not quite as thin as skinny jeans so they might be good for someone that wants to experiment with thinner jeans.
Cobalt Denim
Slim Straight leg fit
Pure Indigo warp threads with Cobalt Blue dyed Weft Yarns
The XX-018 are cut from the same pattern as the XX-005
Available Raw / Unwashed (will shrink with washing) and Once-Washed
14 ounce Japanese selvage denim
100% Cotton
Deerskin leather patch
100% cotton thread sewing construction
Made In Japan
Color : Indigo / Cobalt
Size Chart (One wash)
| size | waist | front rise | back rise | upper thigh | length | knee | leg opening |
| --- | --- | --- | --- | --- | --- | --- | --- |
| 26 | 70 | 22.3 | 31.5 | 26 | 88 | 16.8 | 17 |
| 27 | 72.5 | 23.2 | 31.7 | 26.6 | 88.5 | 17.8 | 17.5 |
| 28 | 75.5 | 23.5 | 32.8 | 27 | 88.5 | 18.5 | 18.5 |
| 29 | 79 | 23.7 | 33 | 28 | 88.5 | 19.2 | 19 |
| 30 | 81 | 24.2 | 33 | 28.5 | 88.5 | 19.3 | 19.3 |
| 31 | 82.5 | 24.5 | 33.6 | 29.5 | 88.5 | 19.8 | 20 |
| 32 | 84.5 | 25 | 34 | 30.3 | 88.5 | 20.5 | 20.3 |
| 33 | 87 | 25.5 | 34.5 | 31 | 89.5 | 21 | 21 |
| 34 | 89 | 25.7 | 34.6 | 31.5 | 89.5 | 21.8 | 21.8 |
| 36 | 95 | 26.6 | 36.3 | 33.1 | 89.5 | 22.8 | 22.7 |
| 38 | 100 | 28 | 37 | 35 | 89.5 | 23.8 | 23.8 |
unit : cm
Measurements are in inches and for the Raw version (before washing):

Expected shrinkage: 2" waist, 2.5" length, and 1/2" in leg width with machine wash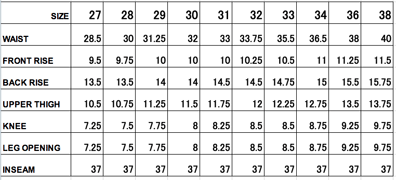 Measurements are in inches and for the Once Washed version: